5 Ways to Prepare for a Roof Replacement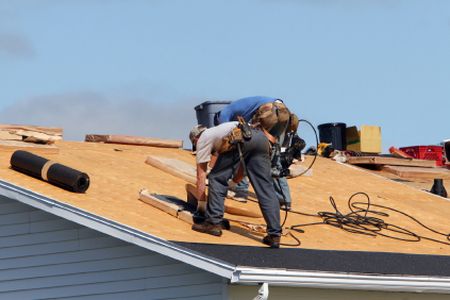 A new roof is a welcome event for most homeowners. You'll be happy to say goodbye to the leaks or shabby appearance of the old roof and have a sleek, secure cover over your home and family. You do need to keep in mind, though, that there will be some inconveniences before the project is complete. When the roofing company arrives, you can expect the day to be loud, busy, and messy. Your home will be a work zone, and you should be prepared for certain disruptions and hazards.
In order to help your roof replacement go flawlessly, here are five ways you can be prepared and safe.
Find Alternate Parking for Vehicles
The roofing contractor will need as much space as possible in the driveway and around your house for vehicles, supplies, and debris, so keeping your vehicles out of the area is very helpful. If you won't need access to your car, you can keep it safely in the garage. If you need to drive somewhere, you should park down the street or at a neighbor's, so you don't get blocked in.
Consider Children and Pets
There will be loud scraping and banging sounds coming from the roof that will be difficult to tune out. This noise can disrupt sleeping and frighten young children and pets. It will also be necessary for them to stay inside and out of the way of flying shingles and debris.
If you have the option of letting children and pets stay with friends or family and away from the chaos of the roof replacement, it's is an easy solution. If this isn't possible, try to explain to your children ahead of time to expect noise and that the yard will be off-limits.
Notify the Neighbors
Letting your neighbors know in advance that you will be having your roof replaced is a kind courtesy. They will appreciate knowing that there will be added noise and commotion coming from your house, so they can be prepared.
Relocate Objects Away from the House
Patio furniture, grills, potted plants, and other items that you typically use or store close to the house should be moved a safe distance away. This will clear the area for the roofers and prevent these pieces from getting damaged. If you don't have the sheltered space of an outdoor storage unit, just put your possessions in a corner of the yard.
Protect Attic Contents
Dust and debris will make its way into your attic as the installers walk and hammer on your roof. If you store belongings in your attic, it's a good idea to cover them with drop cloths or other material to protect them from getting dirty or scratched.
When you decide to have a Pensacola roof replacement by Buildia Construction Group, you can feel free to ask us any questions about what to expect, and we will offer suggestions to make the project run as smoothly as possible.